Economy
Bryan has a growing, diverse economy. And we are building. From our historic Downtown to our Midtown's renaissance, and from Miramont and Traditions to the Texas Triangle Park, our market is growing and our economy is booming. Find out why building and locating businesses in Bryan just makes sense.
Commercial
Featured Projects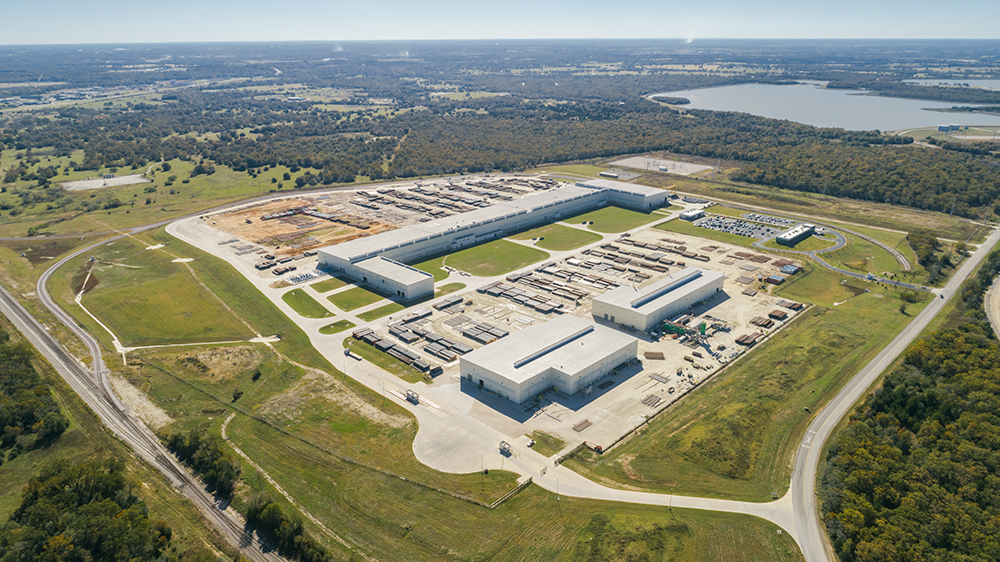 Serving as the market's regional industrial park, Texas Triangle Park (TTP) is a 1,000 acre plus rail served industrial property.  Located in northeast Bryan,  TTP is a designated as Foreign Trade Zone #84 and the home to Bryan's largest industrial property, Axis Pipe and Tube.  TTP is owned by the Bryan-Brazos County Economic Development Foundation, a public partnership between the City of Bryan and Brazos County, Texas.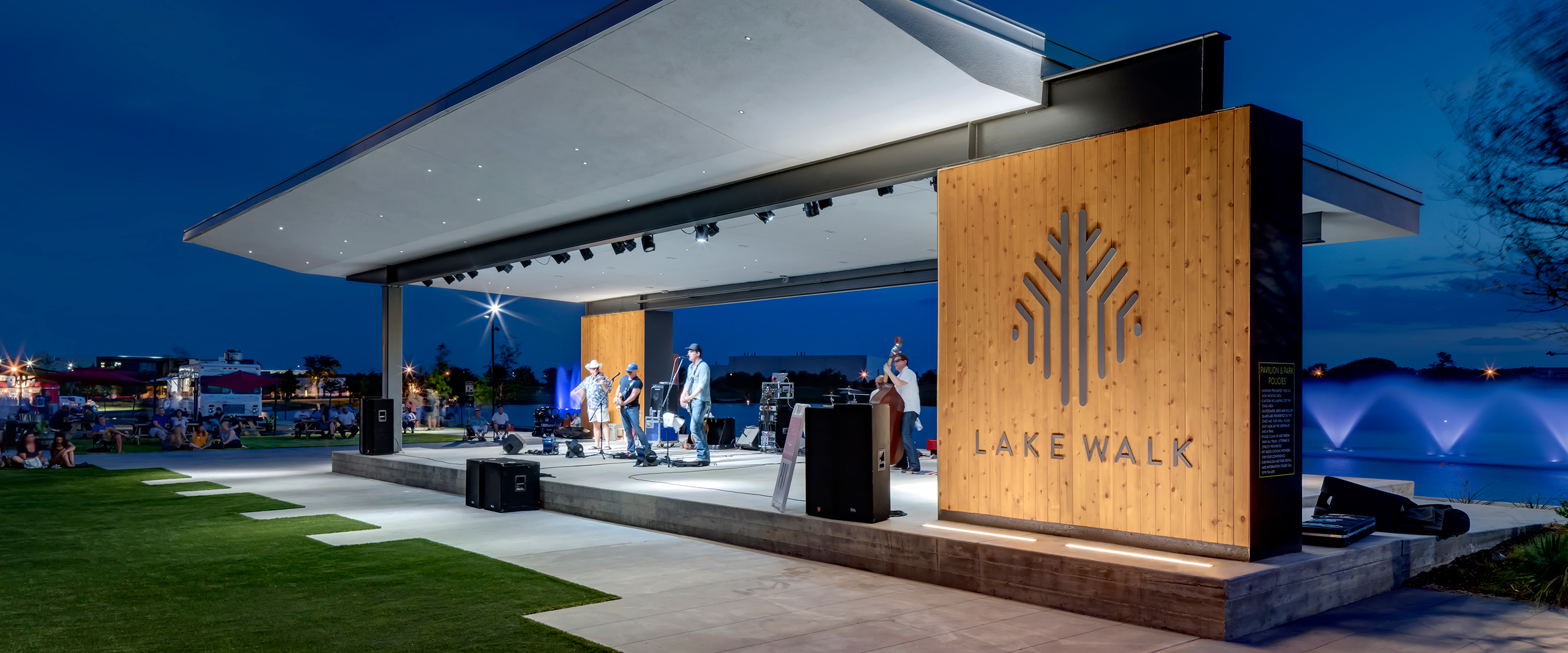 The City of Bryan is a financial partner to Lake Walk Town Center in southwest Bryan which is adjacent to Traditions, Texas A&M Health Science Center and about a mile from Texas A&M University.
Lake Walk is the innovative corporate campus connecting Bryan and College Station. With over 200 acres of entitled real estate opportunities, the advanced master planned development is a thriving, wellness-oriented community offering an amenity-rich lifestyle. Purposefully designed to empower growth, Lake Walk is currently home to FujiFilm Diosynth Biotechnologies, iBio, Nutrabolt and the newest addition, ViaSat.
Lake Walk Town Center is adjacent to the acclaimed Traditions Club and Community, Lake Walk is a comfortably upscale, thoughtful but lively collection of regional dining, hospitality, retail and wellness offerings.  Focusing on community, Lake Walk celebrates music, art, nature and design, fashioning a place where experiences are guided by our senses and memories aren't just made, they are crafted.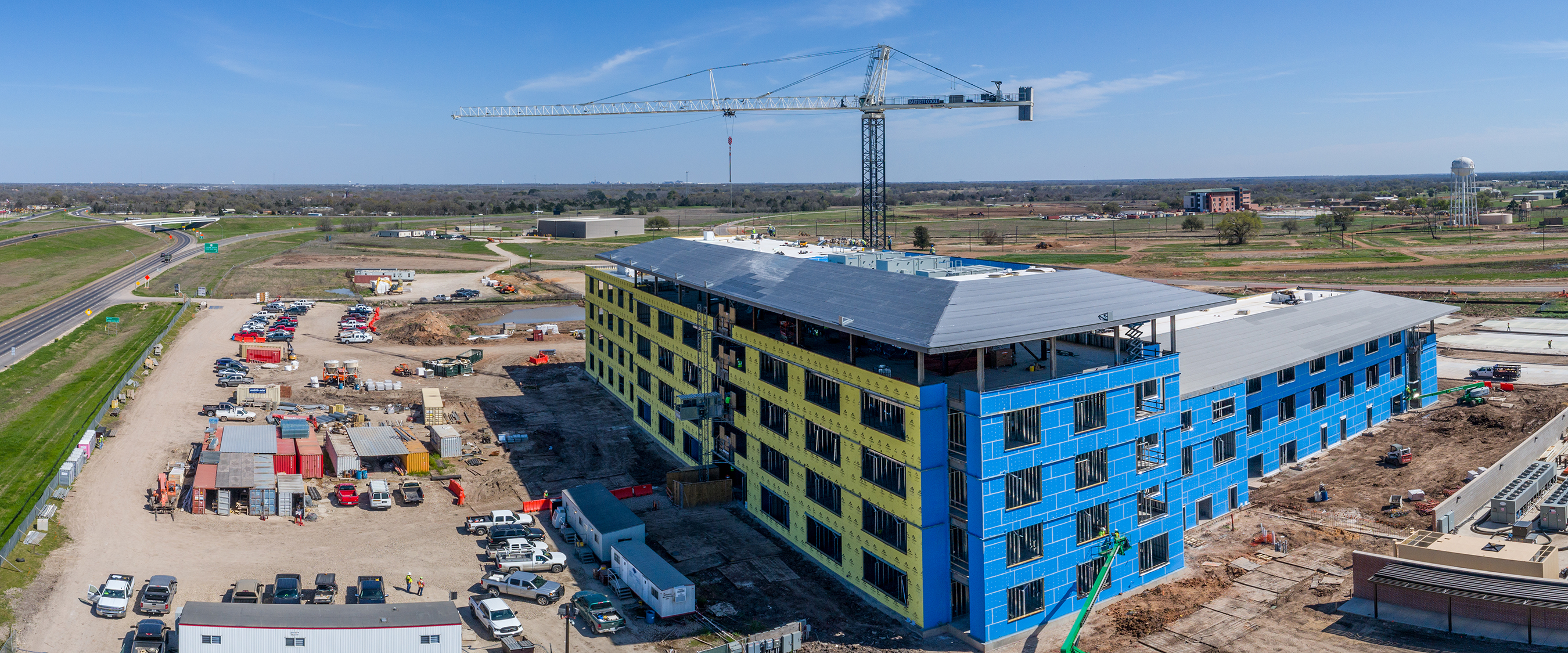 Located in northwest Bryan, the RELLIS Campus is the Texas A&M University System's latest inspiration representing another watershed moment in Bryan's history.  The RELLIS Campus is a collaborative ecosystem built to foster advanced research, technology development, testing and evaluation, higher education, and hands-on career training.
Downtown Bryan is legally designated as Texas Cultural District by the Texas Commission on the Arts. Originally a railroad town, Downtown Bryan has distinguished itself as a place of vibrant art and merchant cultivation. Each street is lined with eclectic restaurants, shops, and art galleries that foster Downtown Bryan's funky Texas charm.
Public Industrial Parks
Bryan Business Park: Just southeast of the intersection of FM 2818 and Mumford Road lies the Bryan Business Park. Established in 1985, the first 200+ acres of this park are occupied by businesses including Honeywell, Toyo Ink, New Southwest Baking Co., Coca-Cola, and Sanderson Farms. Another 200 acres across Mumford Road are primed for development. For more information please contact City of Bryan Economic Development at (979) 209-5130.
Brazos County Industrial Park: Established as a joint city-county venture in 1969, the Brazos County Industrial Park has been an economic driver for the Brazos Valley ever since. This 300+ acre park is on the west side of FM 2818 south of its intersection with State Highway 21. Resident businesses include Kent Moore Cabinets, Pepsi-Cola, Lubirzol, Saint-Gobain NorPro, and Transit Mix. For more information please contact City of Bryan Economic Development at (979) 209-5130.
Major Retail Centers
The City of Bryan has several major retail centers with prominent anchor tenants including H-E-B, Walmart, Lowe's Home Improvement, and Kroger. The following links are a snapshot of major retail centers in Bryan:
Residential
Bryan's housing market is booming. As of April 2018, there are over 2,200 residential lots planned or already under development on the east side of Bryan alone. In addition, there are several hundred multi-family housing units in development phase.
Over the past two years, the City of Bryan's single family housing permits have exceeded that of our neighbor to the south, College Station. The City expects this trend to continue as our market's population continues to grow with watershed projects locating in Bryan; available/development ready land; development costs considerations; and Bryan's family focused values.
For more information on the City of Bryan's residential economic development activities, please call 979.209.5130.
Featured Projects
Bryan is the home of world-class housing (and golf). The following projects are a snapshot of Bryan's world-class residential housing market both developing and/or now underway.
The Miramont community was designed as a retreat that masterfully blends an elegant, easy-going country club community with progressive development plans. Miramont provides a destination that gives discerning homeowners an opportunity to build a primary family residence for generations to come, a second residence for golf and Aggie game days or a weekend getaway in a beautiful resort-like setting.
Traditions Club and Community is a neighborhood like no other and really is the place "Aggies Call Home." When driving through the winding streets and cul-de-sacs you will see the beauty and uniqueness of the Traditions lifestyle. The gorgeous oak trees, rolling terrain, and the prestigious fairways of the Jack Nicklaus/Jack Nicklaus II co-designed golf course make Traditions Club and Community very warm and welcoming. We have many incredible homes in Traditions including Game Day Cottages, Casitas, Custom Homes, Hidden Bridge Condos and much more. Traditions is an extremely active community with oversized sidewalks and paths throughout for a stroll through paradise.
When you live in Oakmont, you can't wait to be outside. That's because nature beckons at every turn. There are miles of scenic nature trails to explore and nearly nine acres of parks and green spaces for picnics with family and playtime with friends and neighbors. There's even a spectacular splash pad for cool summer fun. Plus, Oakmont is minutes from Aggieland attractions. All in all, Oakmont is more than just an inviting neighborhood; it's all you could ever want in a home.
Redevelopment and Revitalization
A core tenant of the City of Bryan's economic development strategy is revitalization. From our historic Downtown to our bustling Texas Avenue and South College corridors, the City is working hard to promote a mixed-use, business-friendly environment that promotes revitalization and redevelopment through, whenever possible, a partnership approach with the property owner.
For more information on the City's economic development revitalization strategy, please contact us at (979) 209-5130.
Catalysts
Programs