Bryan Business Council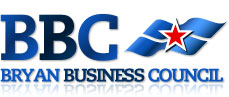 The Bryan Business Council was established in 1982 to promote, aid, improve, and enhance the business community of the City of Bryan and its vicinity in order to make the area a more attractive location for business and commercial enterprises.
Since that time, the BBC has created and operated the 200-acre Bryan Business Park, provided economic and other assistance to numerous businesses, and offered advice to the Bryan City Council on areas pertaining to economic development.
Board of Directors
Brett Brewer
John Bush
Mark Conlee
James Edge
Sam Harrison (President)
Kevin Krolczyk
Kenneth Lawson
Greg Owens
Stephanie Sale
Jack Valerius, Jr.