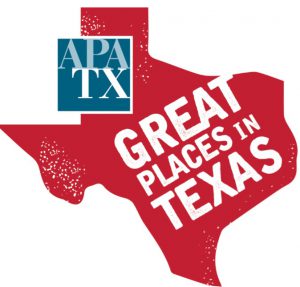 Downtown Bryan has been recognized as a "Great Place in Texas" by the Texas Chapter of the American Planning Association. This recognition is awarded to neighborhoods, streets, or public spaces that have utilized city planning to create stronger and healthier communities. Only cities with populations ranging from 2,000 to 150,000 are eligible. The selected Great Places in Texas are considered to be places that illustrate most effectively what it means to be "great" including design, functionality, sustainability, character, quality, and community participation. "Only a handful of locations are chosen each year, making it a great honor to be selected," says Planning Manager Martin Zimmermann.
The neighborhood of Downtown Bryan was nominated because of the years of hard work that have transformed a once struggling area to a vibrant destination for visitors and locals alike. In 2001, an award-winning Downtown Master Plan was adopted to fight the decay that was previously seen in Downtown Bryan. With recommendations for land uses, streetscape changes, infrastructure improvements, historic preservation, and infill opportunities, Downtown began to change.
Today, the 30-block Downtown Bryan neighborhood is a 24-hour community with over 100 loft and townhome units. That number is expected to triple by the end of 2019. Downtown's design connects with people on a human scale with pedestrian-friendly access to a weekly farmer's market, a pharmacy, and neighborhood retail services such as daycares, barbershops, and salons. Local and regional residents enjoy the rich cultural hub the neighborhood provides.
"This recognition really validates the hard work of our city staff and citizen groups to revitalize our Downtown," says Bryan Mayor Andrew Nelson.
Downtown Bryan is a fun destination for public celebrations and local events. In 2017, the Downtown Bryan Association hosted over 38 public events including First Fridays, that have downtown streets bustling, as well as the annual Texas Reds Steak and Grape Festival, which attracts more than 25,000 visitors from around the world. Cultural celebrations, art walks, delicious food, and boutique shopping highlight Downtown Bryan's success as a regional go-to neighborhood destination.
For more information about the "Great Places in Texas" designation, please visit txplanning.org/great-places-in-texas. To see how historic Downtown Bryan has transformed over the years, visit bryantx.gov/greatplace.
To visit with our staff in the City of Bryan's Planning Department, contact us at 979.209.5030.