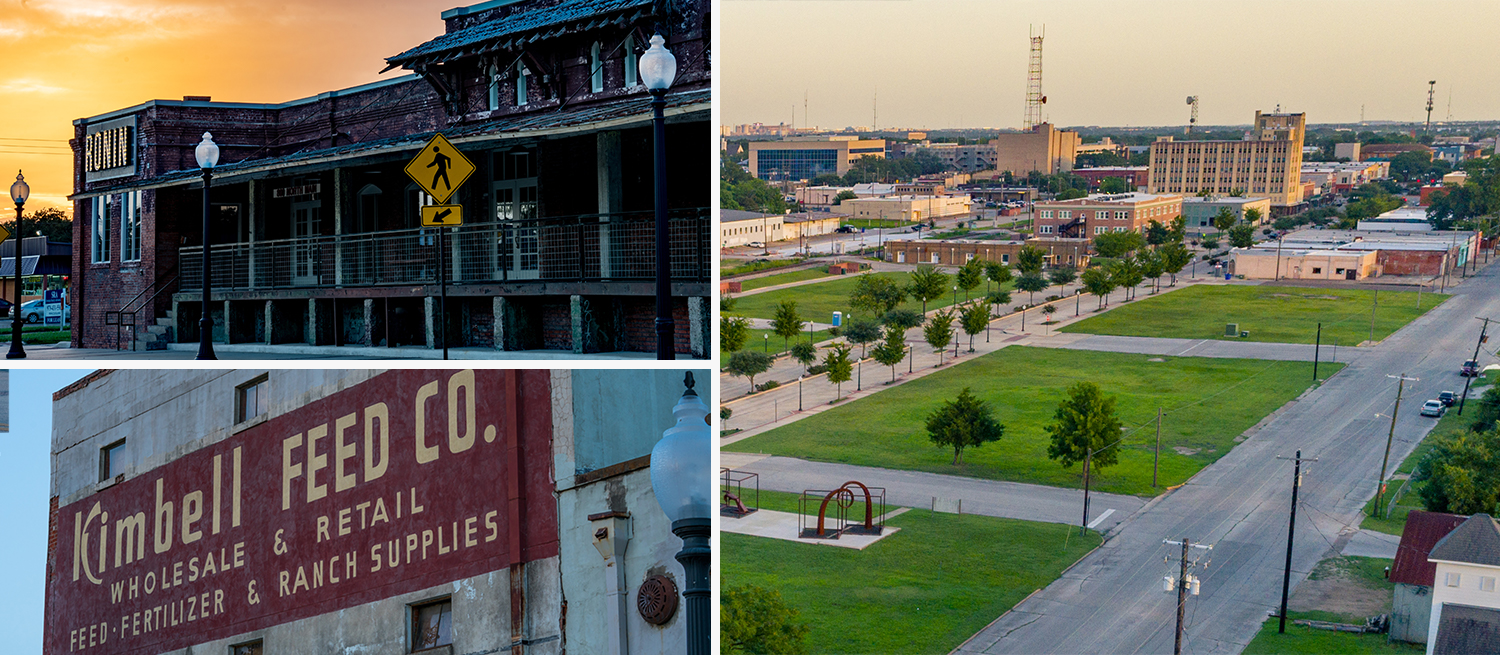 To view the RFP and/or submit a bid, you will need to register as a vendor in our online bidding portal. Anyone can register as a vendor.
Downtown Bryan is a City treasure representing our past, present and future. Today, our Downtown continues its renaissance serving as a Texas "Cultural Arts District" and designated in 2018 by the American Planning Association's Texas Chapter as one of the "Great Places in Texas."
This did not happen by accident.
Over two decades ago, City leaders had the vision and fortitude to design and activate a Downtown Master Plan. This Plan is a case study in urban renewal via a City's long-term commitment to Plan implementation. To date, the City has invested over $30 million in infrastructure improvements in our Downtown in accordance with the Plan. This investment has resulted in the property value of this area nearly doubling. The latest shining examples of this being the grand reopening of the Queen Theatre and The Perry Project representing a great example of a new mixed-use project in Downtown.
The City is now embarking on the final phases of Plan implementation. In October 2007, the City acquired a seven-block area on the north end of Downtown. Several of these blocks are currently being developed by multiple community partners. There are 2.5 blocks remaining out of the original purchase and are commonly referred to as Downtown North (see map on Page 5) which was identified in the Plan as the critical northern gateway into the core of Downtown. Once acquired, the City began demolition of buildings and relocation and infrastructure improvements to Main Street in
preparation for public-private partnership redevelopment activities. As a key component of this activity, the City has entered into public-private economic development agreements on adjacent properties which are now either revitalized or under substantial redevelopment ranging from high density mixed use to commercial.
The groundwork has been laid. Now for the final phases to bring impact, the City firmly believes that this effort must be private sector driven. As such, we are seeking a world-class development partner to invest with us in the redevelopment of our Downtown North property. The City Council's vision is the redevelopment of this property as an experiential destination, a magnet for our citizens and visitors anchoring Downtown Bryan's northern gateway. We invite you to help us make this location the crown jewel of Downtown Bryan. Our goal for this initiative is straight forward – a public-private partnership redevelopment initiative that brings significant economic and social/cultural impact while retaining Downtown Bryan's unique Cultural District position.
We are sincerely grateful for your interest in this investment opportunity in our Bryan treasure. We are unified in our position on the critical nature of this initiative and resolute in our belief that it must be private sector driven leading to significant return as a public-private partnership.
To view the RFP and/or submit a bid, you will need to register as a vendor in our online bidding portal. Anyone can register as a vendor.